Classic Sports Car Club
6th October 2018

-

8th October 2018

Classic Sports Car Club
6/7 October 2018
The Classic Sports Car Club returns to Mallory after a three year absence, with nine of its race series. This is the CSCC's final UK race meeting of the 2018 season. The crowd favourite is sure to be the CSCC Wendy Wools Special Saloons and Modsports Series, with a total of three races over the weekend, for these wild and unique cars that competed up to 1993. Every collectors edition programme sold on the gate will come with a Wendy Wools 40th anniversary vinyl sticker (whilst stocks last), the exact same item worn by the race cars this season.  
Saturday's racing has a slightly more modern feel with 40 minute pit stop races from the CSCC Tin Tops (hatchbacks and saloons), Advantage Motorsport Future Classics (1970's and '80s), Cartek Motorsport Modern Classics (1990's), RSV Graphics New Millennium (2000 to present day) and Motorsports School Turbo Tin Tops series (turbo/supercharged fwd), in addition to the first of three 15 minute Wendy Wools Special Saloons and Modsports contests. Series sponsor 'The Motorsports School' are based here at Mallory Park, providing coaching and race licence courses for current and future racing drivers. The Toyo Tires/Watchdogapp.com Jaguar Saloon and GT Championship have their final rounds here, with one race on each day. Points are looking very close, so with dropped scores still to play a part Mallory Park could decide the title.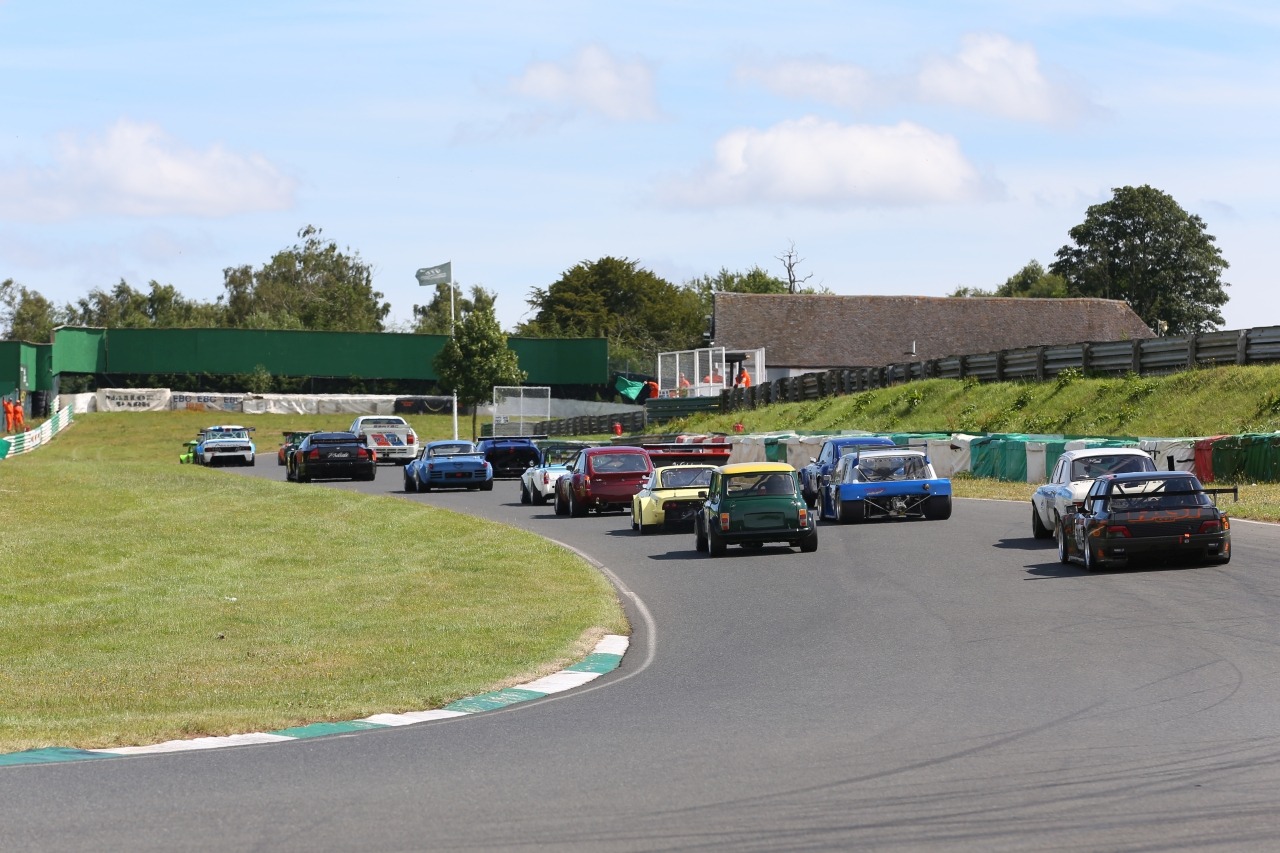 Sunday sees the classics in action, with a 40 minute Adams & Page Swinging Sixties Group 1 race for up to 2 litre '60s cars and a 40 minute group 2 race for over 2 litre 1960s models as well as nimble Lotus and Ginetta models. The Gold Arts Magnificent Sevens is a spectacular pit stop race for cars based on Colin Chapmans ever popular Lotus Seven design, with Caterham being the dominant marque here. The Racetruck Open Series brings together cars from the last 50 years together on one grid, to see who is the fastest of them all and we have the second of the two JEC Jaguar races, for these big 6 and 8 cylinder felines. The final two Special Saloons and Modsports races will mark the end of this 40th anniversary year for the most unlikely of race sponsors, Wendy Wools.
Pit stops pay a large part in CSCC races, so viewing from the bank by Devils Elbow and Kirby Straight will get you the best view. Spectators are welcomed into the pits and paddock to see the cars and meet the drivers throughout the day.  
Timetable:
Gates Open – 08:30am
Practice Starts – 09:30am
Racing Starts – 11:15am approx.
Tickets:
£13 Adult (£11 in advance, see below)
£11 Senior Concession
Children U16 go free when accompanied by a full paying adult.