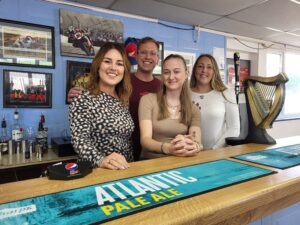 Lakeside Diner and Bar, back in the family!!
We are delighted to start a new era for the Lakeside Diner and Bar on the 1st October 2023, when a local family business will take over the running of the catering at Mallory Park.
LJR Catering is headed up by Kayleigh Jeacock, Phoebe Allinson, and Leon Jeacock, many of you will know the Jeacock name from within the motorcycle racing World, most recently Leon was racing in British Superbikes. Not many people have ridden more laps of Mallory Park than Leon, and for the last 15 years has raced with EMRA, our home motorcycle series.
Kayleigh Jeacock Operations Manager, LJR Catering said 'we are really excited about taking over the Lakeside Diner and Bar at Mallory Park, returning this iconic establishment to the glory days. In fact, on the menu from the 1st October will be 'Val's breakfast' which everyone recognised as the best at all the UK circuits. We will use locally sourced produce, suppliers and employ local people.'
Natalie Hansard, Operations Director at Mallory Park commented 'LJR Catering are a perfect fit for the 'Friendly Circuit' and we look forward to working with Kayleigh, Phoebe and Leon. The LJR team will not just be looking after the fixed facility they will also manage the mobile Catering units and our corporate hospitality requirements. This is an exciting new chapter for Mallory Park, and we look forward to where it takes us.'
Main picture from the left Natalie Hansard, Phoebe Allinson, Kayliegh Jeacock and Leon Jeacock.
You can contact LJR Catering via email: ljr-catering@outlook.com
Or follow them via social media:
Facebook: Lakeside Diner & Bar
Instagram: lakeside_mallory